Details:
★★★★★
Li-ion/LiFeP04 Smart BMS 20A-50A 16-20S with Bluetooth Android APP
Features:
● Dimension:100*90*15mm
● Same port of the charge and discharge
● Balance cable included.
● Suitable for Android 4.3
●Supports Android device only with bluetooth version 4.0 or higher
● 16 ~ 20 batteries in series protection, charging and discharge of the various protection functions, the hardware over-current, short circuit protection function processing
● UART communication or Bluetooth 4.0 mobile phone APP communication, flexible adjustment of the protection of the protection parameters (232 interface / 485 interface to support custom)
● Intelligent balance of batteries, balanced current can be flexibly adjusted by external devices
● The corresponding temperature protection during charging and discharging
● All protection delays are programmable
● abnormal data storage, intelligent voltage alarm, which is conducive to direct maintenance after sale
● Accurately report the current battery information, record the battery charge and discharge cycle, understand the use of the situation, to provide after-sales convenience basis.
● A variety of operating modes can flexibly control the consumption of quiescent current
● sleep mode
Bluethooth APP can change parameter:
Overvoltage,Overvoltage release,Undervoltage,Undervoltage release,Discharge over current,Cycle capacity,Norminal capacityly,Charging duration, Open balance, Balance mode,Balance turn-on,Balancing precision, Hardware over current,Hardware short circuit.
★★★★★
SP20S001 is specifically for lithium electric bicycle 16 ~ 20S battery pack designed BMS ,the program can be applied to different chemical properties of lithium batteries, such as li-ion, lithium polymer, LiFeP04 phosphate and so on.
BMS port can be used to set a variety of protection voltage, current and other parameters, flexibility is very strong.
BMS with strong carrying capacity, continuous discharge current up to 100A ,BMS can also be through the communication port to accurately read the battery pack power information.
You can directly through this port to obtain the battery capacity, the remaining power, relative to the remaining battery percentage, battery voltage, current, temperature and other battery-related information.
★★★★★ Contact us NOW!
Email: topbikekit@hotmail.com
Skype: TBK Chen (topbikekit@hotmail.com)
★★★★★ DOWN LOAD
Li-ion/LiFeP04 Smart BMS 20A 10-15S with Bluetooth Android APP
SP20S001 BMS Wiring diagram.pdf

This product was added to our catalog on Saturday 07 October, 2017.
Customers who bought this product also purchased...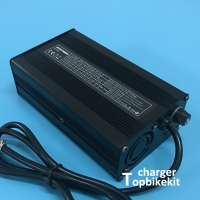 12V8A, 24V5A, 36V4A, 48V3A, 60V2A… Li-Ion Battery Charge Voltage = 4.2V x the number of cells...