Details:
★★★★★
8fun Bafang DP E12.UART Display with Bluetooth (Android) and USB For BBS01 BBS02 mid motor
SPECIFICATION
1--Rated Voltage: 36V/43V/48V
2--Support Modes: 0-5
3--Com. Protocol: UART
4--Weight: 57g
5--Capacity Indication: Yes
6--Walk Boost: Yes
7--Light Sensor: Yes
8--Bluetooth: Yes
9--USB charge: 5V500 mA
10--USB communication: No
11--Backlight: No
Mounting Parameters:
1--Dimension: 63*42*47mm
2--Holder: Ø22.2
3--Cable length (mm), connector: 230 M5.2/ 850 M5.2
★★★★★
1--The display connect via Bluetooth with your Android smartphone. Use the application to view information. The display is equipped USB output to charge the phone.
2--Buttons control the basic system functions - activate or deactivate the system and the assistant level (0-4). The LED display shows the battery capacity. You can use and control the LED display without having to install and run the application. Activate walking assistance mode by pressing and holding the down arrow.
3--LED display for 250W - 750W Bafang BBS01 BBS02 central motors.
4--Note:This display is not compatible with 1000W Bafang BBS-HD motor. The current software in the engine can not communicate with the display.
Please download the APP and manual at below.
Email: topbikekit@hotmail.com
Skype: TBK Chen (topbikekit@hotmail.com)
★★★★★ DOWN LOAD
This product was added to our catalog on Thursday 07 December, 2017.
Customers who bought this product also purchased...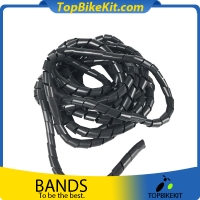 ★★★★★ A Bag of 7 Meter Spiral Wrapping Bands 1. A protection wear for electric...