Details:
★★★★★
XP01 Down Tube battery 36V12.5AH-16AH-20AH Li-ion Battery Pack with Inner Controller
SPECIFICATION:
1-Normal voltage:36V
2-Capacity:36V12.5AH(China Brand 18650 cells),36V16AH(18650 Panasonice BD cells), 36V20AH(Samsung 21700-50E cells)
3-Cells in series:10S5P or 10S4P
4.Battery case dimension:387*100.6*94.4mm
5-Continuous discharge:20A
6-Peak discharge current:40A
7-Charge port:2.5DC plug
8-Overvoltage Protection:42V
9-Undervoltage Protection:27.5V
10-BMS including.
11-LiFeCycle:1200cycles
12-N.W.: about 3.5KG
13- This battery is not suitable for motors >500W
14-Capacity, voltage can be customized,if there is any demand, please contact us.
Specification of the inner controller:
1--Rate Voltage:36V KT sine wave controller
2--Rated Current:7A
3--Maximum Current:15±1A
4--With waterproof connector: 9holes for motor,3holes PAS, 8holes extend cable for 1-4
Please kindly note that if choose battery with inner controller, that can only fit the 250-350W motor.
★★★★★
A--Normal Brake,Hydraulic brake sensor
C--LCD3 display,KT-LCD4,KT-LCD5,KT-LCD8S,KT LCD8H display,KT-LCD10H,KT-LED900S
E--130X thumb throttle, 108X thumb throttle,TF158 throttle
F--KT-V12L PAS, KT-D12L PAS,KT-BZ10C PAS,8PAS
Throttle,brake,display,PAS and extend cable are default waterproof connector
Email: topbikekit@hotmail.com
Skype: TBK Chen (topbikekit@hotmail.com)
This product was added to our catalog on Saturday 12 September, 2020.
Customers who bought this product also purchased...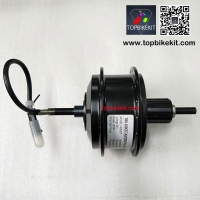 ★★★★★ AKM-100CST Cassette 36V250W EBike Rear Driving Hub Motor Specification: 1....